A Place To Grow: A Tale of Serendipity and Sustainability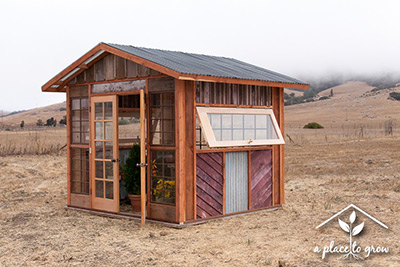 One definition of serendipity is making desirable discoveries by accident, which is just what happened when we chanced upon the recycled garden structures designed and built by Dana O'Brien of A Place to Grow. The genesis of Dana's business was serendipitous, as well: It began in 2004 when Dana convinced her brother-in-law to buy a home because she'd fallen in love with the backyard greenhouse built with wood sash windows salvaged during the home's remodel. A few months later, that same greenhouse ended up in Dana's backyard as her 40th birthday present--Dana's husband had cut the greenhouse apart with a skill saw, loaded it on a trailer, and set it up in their yard. This synergistic series of events was the inspiration for A Place to Grow.
In the most literal sense, Dana designs custom places "to grow" in whatever way best matches the client's wishes and aspirations. Her passion is creating greenhouses, meditation retreats, artist studios, 3-sided structures for outdoor dining rooms, 2-sided structures for hot tub enclosures, as well as arbors and potting tables for the garden. Dana finds it particularly gratifying to be able to incorporate special pieces from her clients, such as stained glass windows or doors.
Using primarily reclaimed and re-purposed materials, A Place to Grow helps keep architectural salvage out of the landfill and turns it into "functional art." Dana has donated a recycled greenhouse to the Montessori Children's School of San Luis Obispo and is in the process of designing a greenhouse for Bellevue Santa Fe School in Avila Valley. Donations are very welcome and help fund the charitable component of Dana's business. She is most in need of reclaimed wood, glass doors, and wood frame windows, but she also appreciates redwood decking material and fence boards (as long as they are in decent shape), corrugated metal, and wine flavor sticks.