Far Out Flora Is... Well, Far Out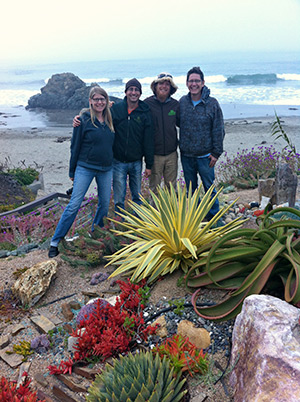 Not to get too colloquial about it, but Megan and Matti are pretty far out. Horticulture hunters, this couple runs the eclectic and engaging faroutflora.com, a blog devoted to the exploration and documentation of all things horticultural and happenin'. Garden designer Kaveh Maguire (featured here in a fabulous green Gardens by Gabriel hoodie) invited this Megan and Matti to visit several garden projects we've been involved in, so they graciously agreed to visit our county on their travels.
Their first stop was Kaveh's fledgling Los Osos garden. Next up was Vince and Janet Marino's Morro Bay landscape (featured in this year's AAUW Garden Tour). Two more stops in Cayucos completed the tour: One, a landscape (left and below) designed by Grow Nursery owner Nick Wilkinson; and Two, Wilkinson's parents' home garden. Succulent gardens and coastal views under our belts, we stole them off to dinner to ply them with food (thanks, Kaveh!) in order to get more plant-speak out of them.
As Megan and Matti await the birth of their first child and head off to explore the wilds of Wisconsin, we look forward to watching their blog expand from plants and puppies to progeny and beyond.
And here, a photograph of what it's like to tour gardens with plant enthusiasts: Synchronized snapping!