Green Goods' Grand(er) Opening This Saturday, June 11th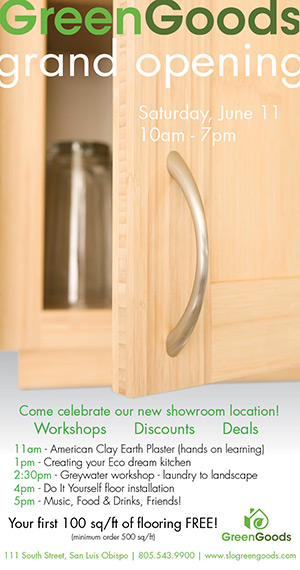 We're thrilled for the grand re-opening this Saturday, June 11th, of Green Goods' new showroom at 111 South Street in San Luis Obispo! Our friends Mikel and Brian Robertson, Green Goods' owner/brother duo, deal exclusively with Green building supplies, design consultation and construction services. Everything they do speaks to sustainable living through conserving natural resources, cutting energy costs and ensuring healthy indoor air.
We'll be stopping by to celebrate their new space and enjoy music and delicious food amongst friends. Discover the origins of their passion for sustainability through workshops on clay earth plaster, ECO dream kitchens, greywater, and do-it-yourself floor installations from 11a.m. – 4p.m. Food and festivities to continue into the evening...
Or, if you REALLY want to support your garden, Green Goods offers composting toilets that create nutrient-rich compost while cutting costs on your water bill. How's that for being Earth-friendly! Hope to see you there!