"Mowing" The Drought-Tolerant Lawn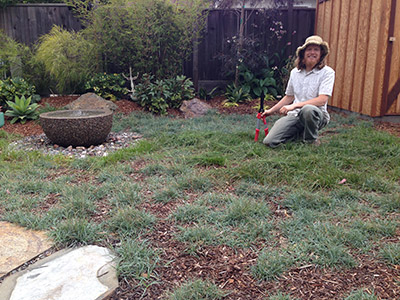 Lawnmowing services exist to give homeowners a break from the tedium of hauling out the mower each week. The hassle, the sweat, the repetition--it seems worth it to shell out a few bucks to skip the mess of grass clippings and go right to the backyard barbecue. But even more convenient than paying someone to deal with your water-hungry lawn could be the brief task of clipping a native crop of Carex grass just once a quarter.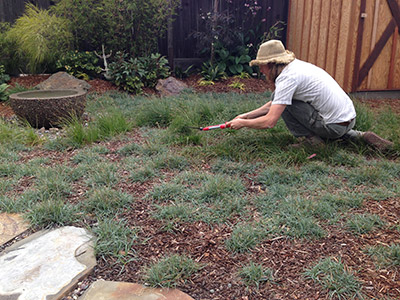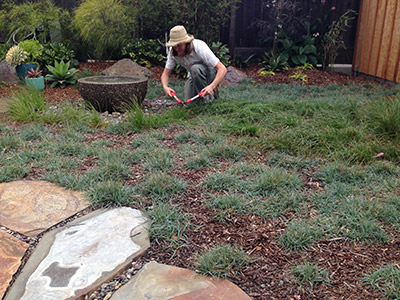 Gardens by Gabriel's demonstration garden features a meadow of two types of Carex: Carex pansa (green) and Carex flacca (blue). Both were planted at the same time and have grown in happily with the help of low-flow drip irrigation. Six months later it was time for their first haircut. While we enjoy the look of a lush, flowering meadow, we like to clip younger grass clumps to encourage them to expand laterally and form a denser carpet. There are choices for how to cut grass, and we landed on hand pruning with a hedge shear because it avoids the need for a gas-powered machine as well as the burned edge left by weed-eating or weed-whipping.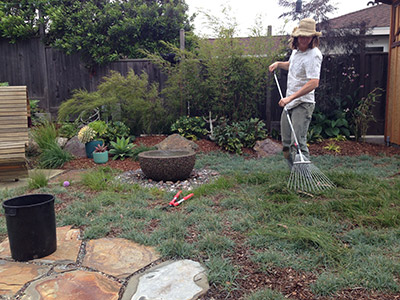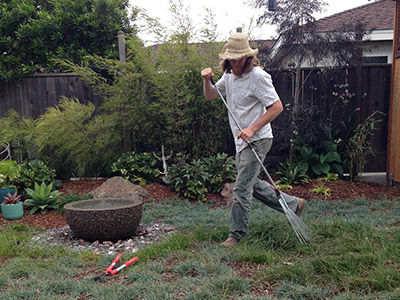 As with mowing a lawn, mulching with the clippings is a healthy protocol (and a lot easier than gathering them into the greenwaste bin). We spread ours over the mulch and grasses alike with a metal rake and called it a day.
Tools: Shears, rake, funny hat.
Total elapsed time: 20 peaceful minutes on a Spring afternoon.