Plant of the Month: California Carex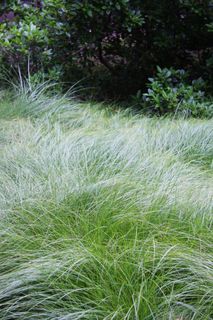 If you love the look of a lush green yard, look no further than California Field Sedge (Carex praegracilis). You've seen this beautiful grass or its cousins, perhaps without realizing it, dotting gardens throughout the Central Coast, contributing fresh, clean lines and structure.
Growth to its full height, for that truly native look, Carex praegracilis will reach around 18". With heavy foot traffic, or mown biannually (only!), your native grass can be kept at a comfortable 4-6", making it a beautiful place for friends to take an afternoon stroll or a playground for young feet or four-legged friends.
Plant 2" praegracilis plugs 6-8" apart. Contrast its soft texture with a meandering path made of edgy flagstone or smooth cobble.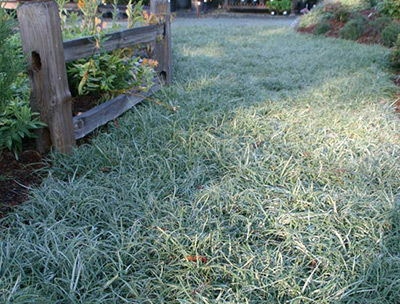 A little shorter, a little bluer, and just as soft, is praegracilis's Carex European cousin, Carex glauca. While not native to California, we love the glauca's calming effect on the landscape, echoing the neighboring Pacific and calming the mind. The glauca is more compact, and more tolerant of foot traffic. In fact, gardeners throughout the county use it successfully in their plantings but also as their driveways. Replace your concrete with glauca and bring a grassy ocean to your doorstep. Plant either glauca or praegracilis to rid yourself of the heftier water bill that comes hand-in-hand with typical lawn grass.