Turfgrass Is SO Last Century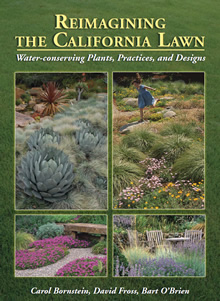 We all know the hidden costs of manicured green grass ~ fertilizer, mowing, water, time... it's endless! But what choice do we have, right? WRONG! The Leave It To Beaver picket fence yard days are gone. A new generation of nutrient-rich, water-wise plant habitat-development is taking over.
Which means: It's time to reimagine your lawn! How better to start creating your home's new ambiance than with the vision of David Fross, co-founder of Arroyo Grande's Native Sons plant nursery, who will be speaking at the SLO Botanical Gardens tomorrow, Saturday June 11 from 1-3p.m. Besides lecturing on why lawn is a yawn, David is a leader in plant identification, a several-times-over published author, and in general is the bee's knees. Prepare yourself for an inspiring afternoon filled with endless planting possibilities!
P.S. Check out Reimagining the California Lawn, co-written by Native Sons owner and plant mogul David Fross, which educates the California garden owner about practical ways to replace their lawn with beautiful water-wise alternatives. Explore plants that are native to California, as well as those native to our Mediterranean counterparts within its pages.