Wells At Work: We Love Wells Concrete Works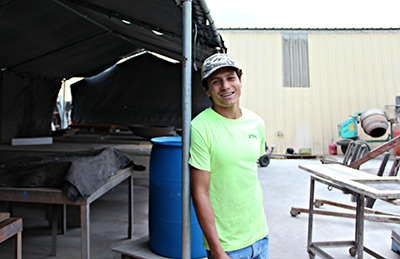 Maysun Wells dips his hand into a barrel full of what appears to be white sea glass. "Someone just gave this to me!" he says, loosing the semi-translucent pieces back into the bin. "I use clear glass like this if I want to create a different look from the wine bottles." He gestures to a pile of green-, blue- and ochre-colored bottles collected from local restaurants. Earth-toned or clear, the tumbled fragments will soon become sparkling accents in one of Maysun's pre-cast concrete fire bowls, benches, or countertops.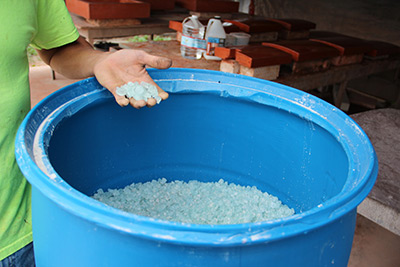 Maysun's concrete studio, Wells Concrete Works, combines an indoor zone for pouring and molding custom concrete forms, with an outdoor zone for grinding, sanding, assembling, and finishing his pieces. After six years of working for local concrete artisan Roy Burch, Maysun bought the business and made it his own. "I didn't know what I wanted to do when I got out of school," he says, "but when I saw what Roy was doing and worked for him, I realized I'd found it." Fortunately, his degree in Industrial Technology from Cal Poly dovetailed neatly with his newfound passion. A mere two years after buying Burch's business, Wells' work is featured at Sage Ecological Nursery in Los Osos, Porch Home Furnishings in Carpenteria, Potter Green & Co in Sonoma, and Niner Wine Estates in Paso Robles, along with shops and homes around California.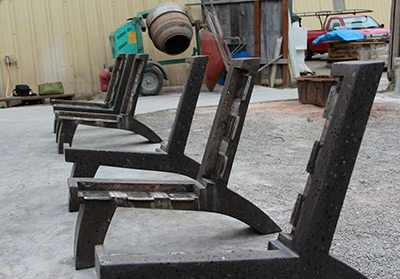 Designer concrete projects line the walls and sprout upfrom the gravel floor of Maysun Wells' studio, awaiting their next steps or further inspiration.
Decorative concrete is enjoying a renaissance in San Luis Obispo County, and Maysun is excited to be a part of it. "I like the collaborative design aspect," he says. "Homeowners come to me with different needs and give me a chance to work on some real specialty pieces." However, even Maysun's simple concrete fire bowls are truly works of art. Domed or conical in shape, accented with clear or colored glass--or even stones and fossils, alone or paired with benches, each one is hand-crafted with both recycled materials and a sculptor's eye. We're finding they make a beautiful, natural addition to a landscape, tying together the elements of earth and fire--and in a recent project involving a fountain bowl, water.
Visit Maysun's website at www.wellsconcreteworks.com for more information and a selection of photographs of the subtle, clean, and elegant indoor and outdoor accessories that he has perfected.