What Is Continuing Cultivation?
Why the switch? What's different about Continuing Cultivation (and why the capital letters?)?
Over the past 6 years of Gardens by Gabriel's leafy existence, the range and depth of our services has grown and improved. While we aimed in the beginning to offer a simple, qualified maintenance service for gardens we have installed and those already in existence, it's come to our attention that what we now offer is a little different from many maintenance outfits.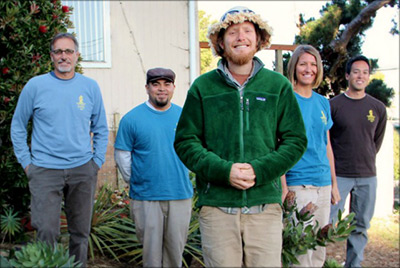 What we have developed is a skilled approach to keeping the appearance and health of your landscape at its best, from the inside out. We focus our efforts on plant vitality, fine pruning, and irrigation tuning to keep your garden tidy, healthy, and robust. We are proactive about looking for pests, irrigation problems, and soil health issues that lead to poor plant performance. Our work is focused on meeting your preferences for how you like your garden kept. It is not our intention to compete with everyday maintenance services because we offer a style of garden care that, while it is in its own class, is for landscapes with a strong horticultural flair, or that are in the first two years of their lives. Our goal, as always, is to continue to earn your business with the outstanding work we do.
Our Continuing Cultivation program was launched in March of 2012. Our 4-person crew provides the following services for the landscape:
Evaluate irrigation systems
Prune and shape perennials, shrubs and grasses
Weed and groom beds
Control and prevent pests
Maintain a general tidiness throughout the garden and walkways
Manage water usage throughout the seasons
Monitor and support plant health and vigor
Fertilize annually with organic fertilizer
Monitor mulch layer, soil health, etc to make suggestions for larger annual tune-ups
Schedule larger, seasonal pruning projects
As Gardens by Gabriel is growing as a company, we are always looking to improve the quality of our work, our commitment to our customers, and the strength of our team. By differentiating ourselves from mow-blow-and-go maintenance services (services which we respect and rely on!), we hope to hone our skills as cultivators of the finest that gardening has to offer.